Celebrating culture and community
LORE acknowledges the traditional custodians of our many great nations, as our Ancestors, our Elders and our Leaders who are always with us as the sovereign people of this place. We recognise their ongoing connections to Culture and Country.
LORE is happy to provide you with links to numerous artists, collaborators, makers and creators celebrating culture and community.
Explore our community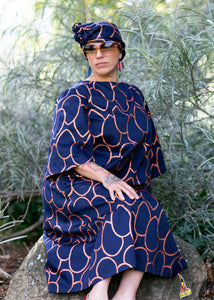 Ngugi woman and artist Libby Harward wears: The Pleated Tunic - * Bunya Bunya print, copper ink on navy cotton sateen.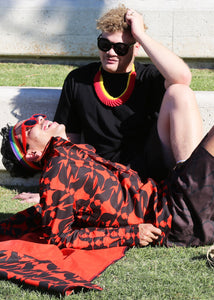 L to R: Sam Ramsey wears the Cool-country shirt in Jitta Jitta print, black ink on tangello linen, and The Boxy-shorts in Bunya Bunya print, black ink on chocolate brown drill.
Dylan Mooney wears the same shorts and a beautiful weave by Grace Lillian-Lee.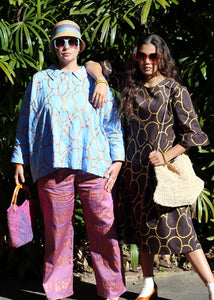 L to R: Sharnee Hegarty wears The Round-town Shirt: Bunya Bunya print, copper ink on light blue linen, and The Pull-up Pants: Monsoon print, copper ink on lilac cotton sateen.
Shilo wears The Shifty Frill Dress: Bunya Bunya print, gold ink on chocolate brown cotton drill. Shilo represents with woven dillybag by Kyra Mancktelow